How Strategic Workforce Planning Aids in the Transformation of HR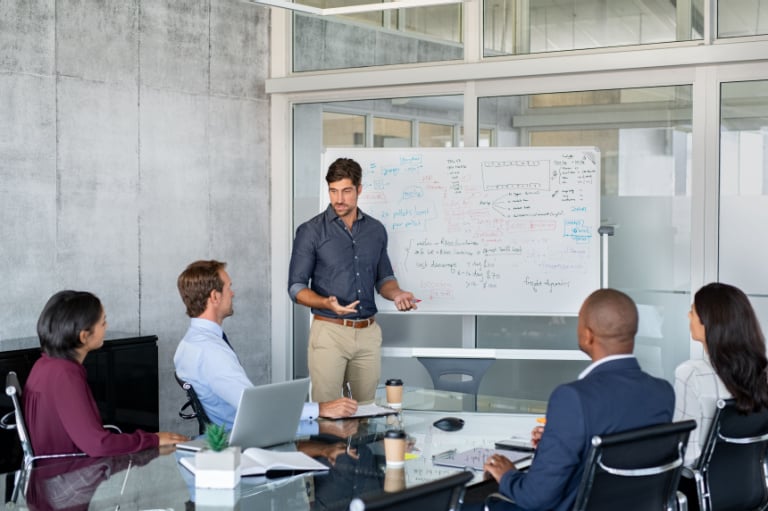 In case you missed it, last month, Chris Hare, joint CEO and co-founder of eQ8, was joined by Madeline Lorando, founder and chief analyst of Aptitude Research, to discuss the current state of HR and the rapid transformation it's currently experiencing.
In January and February of 2023, eQ8 partnered with Aptitude Research on an insights report bursting with qualitative data depicting the current transformation of HR. The methodology of this report includes the polling of 335 HR and workforce planning executives at the director level or above, all at companies with greater than 250 employees.
This in-depth research garnered very telling data points, such as that 39% of respondents have no clear ownership of Strategic Workforce Planning within their organizations.
With that in mind, what role does strategic workforce planning play for HR leaders looking to transform themselves and their organizations?
Lorano:
"It seems we started doing this research 15, almost 20 years ago, and a lot of these findings were the same. And Chris, we've talked a lot about that. It's like this ownership issue has been a big piece of it. It's that nobody wants to take ownership of strategic workforce planning. And I don't think it's necessary through fault of anyone in particular. I think it's just that it's really hard work, and people don't understand necessarily everything that needs to be involved with that."
Strategic Workforce Planning remains a top trend in HR, but organizations large and small still struggle to know exactly how to leverage it to their advantage. In part, Lorano believes this endeavor requires two things: the confidence to understand what strategic workforce planning entails, as well as being fully equipped with the correct tools to execute it. Both of these things combined will empower HR experts to thrive during this time of transformation.
Strategic Workforce Planning sits in this intersection of finance, HR, and strategy because it sits in that intersection, no one quite knows which department should take ownership. In the opinion of Chris Hare, it may not be up to HR to own it entirely, but at least to sponsor it.
Hare:
"I worry that if HR doesn't sponsor it, the organization is not going to get the full benefits of strategic workforce planning. I think finance has a role to play in this conversation, and they're very interested in whether the cost base of the organization is right and what it needs to look like going forward, but they don't have the depth of understanding around people. Obviously, HR does. So if HR doesn't grab that, who will?"
HR is at a crossroads. I think it is an opportunity for everyone to think about how to carry forward and help companies think about their purpose and the future of their people. But it often comes down to a capability issue. SWP requires "purple people": those who understand strategy and people who understand data. The two together are the proper path to strategic transformation and partnership.
79% of CEO's don't feel confident that they understand the skills that they need for the future success of their organization. What are you seeing in relation to how organizations are considering their needs to better align for their future success?
SWP is evolving. Skills are coming into play here with something that was already seen as a bit of a complicated mechanism: strategic workforce planning itself. But, if we stick to the kind of traditional SWP headcount, it's too generic.
Hare:
"A traditional SWP headcount is a good place to start, but you have to bring a skills lens in. Equally, I think if we go too far to skills only, we can become too detached. From our first question, talking about who should be sponsoring SWP. HR runs a little bit of a risk of going too fast, too far down the skills lens, totally detached from roles and titles and things that managers are accustomed to that the items we start to talk about. Almost where it's too hard to action. And managers don't really understand what you're talking about".
eQ8 and Aptitude Research's shared report is focused largely on skills research, primarily reflecting the focus of today's workforce. It's evident that organizations are honing in on the skill set of their workforce, but now the goal is to understand how to move that into actionable insights.
Lorano:
"I think that's where companies get stuck on the skills piece, as it becomes this buzzword, then they don't know how to actually execute on it. So, they get stuck with other things that they have to focus on. They defocus on skills. It feels like something can take three to five years, and it becomes much less of a priority. The more companies focus on it, the harder it seems. A skills-based approach is hard work, and there needs to be a commitment to that. But it does foster transformation.
But what we're seeing is that when you have a strong foundation of skills, and we have the right technology, you don't need to wait three to five years; it can be done in a much shorter time period."
There is a great opportunity during this time of transformation in HR. Through the power of Strategic Workforce Planning, backed by the technology available through eQ8, organizations can harness this opportunity to reach their full potential and future goals.
For more on how to leverage Strategic Workforce Planning, view the webinar in its entirety here or download the report HERE.
To see how eQ8 can help support you in your workforce planning, request a demo today.