eQ8 Survey Examines the Current State of Strategic Workforce Planning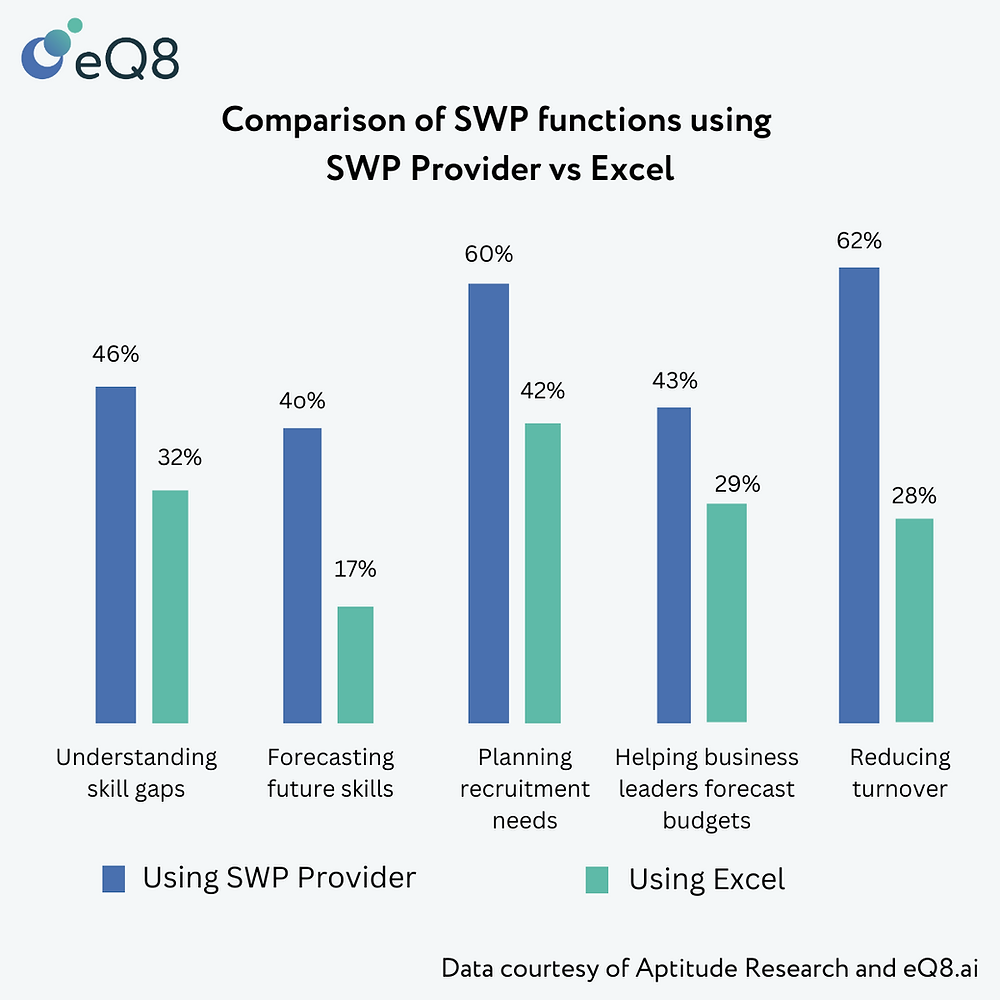 Technology increases chance of SWP success
Austin, Texas – May 9, 2023 – eQ8, the only dedicated end-to-end SaaS solution for strategic workforce planning using dynamic scenario modeling, today released the results of a study on the state of strategic workforce planning. The study was conducted by Aptitude Research and surveyed over 300 U.S. HR executives at companies with 250 or more employees in January and February of 2023.
As economic disruptions continue and mass layoffs dominate headlines, organizations face significant challenges in meeting their organizational objectives while continuing to innovate to deliver on customer expectations.
According to a recent article by TechCrunch, the technology sector has shed over 120,000 jobs in the first quarter of 2023 alone. The implications of these layoffs are felt in all areas of the organization. As employee experience and engagement decreases, so does customer experience and, ultimately, revenue.
"Strategic Workforce Planning is all about driving a fundamental shift where organizations see their workforce as an asset," said Alicia Roach CEO and Co-founder of eQ8. "When we treat our workforce as something that creates value, achieves strategic and operational imperatives, and delights customers, we are better situated to meet our long-term goals for success. There is an innate knowing that the organization cannot get where it needs to go without its people."
Best-in-breed technology drives results
Companies leveraging an end-to-end, purpose-built solution for strategic workforce planning were more likely to see success than those using other methods, such as excel. While all areas surveyed saw a greater increase in meeting their objectives using an SWP provider, the relative difference in forecasting future skills between those leveraging SWP technology and those who did not was 135%. In addition, companies using SWP technology were much more likely (121%) to reduce turnover which is a direct impact on an organization's bottom line.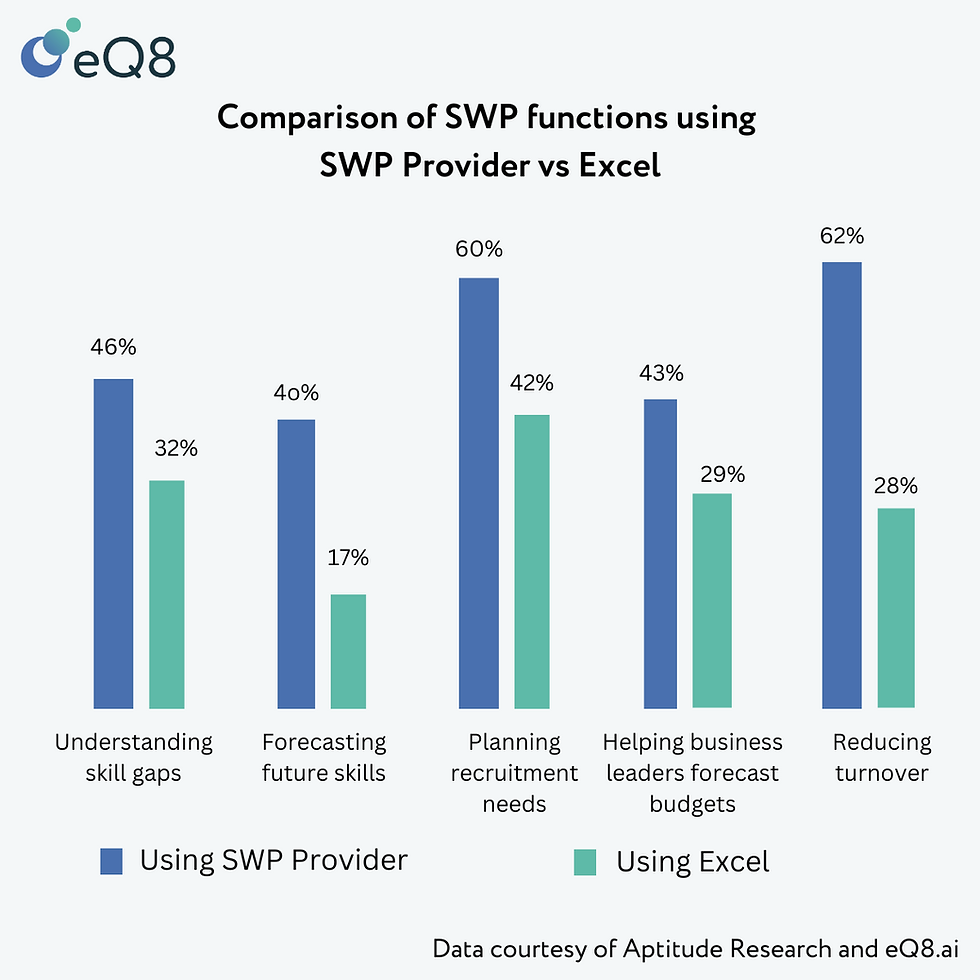 Blind spot: 82% of companies unclear on skills needed for future success
While one in two companies report focusing on upskilling and reskilling their current workforce, only 18% report having an excellent view into skill gaps through workforce planning to achieve future success. This correlates with previous findings from PwC that state that 79% of CEOs lack clear visibility into the skills needed for their organization's continued success.
60% of companies report feeling unprepared for the future of work
Despite the increase in investment in the future of work with 72% of companies reporting increased investment, 60% of companies do not feel prepared. In addition, while transformation initiatives were a large focus over the last decade, only 27% of companies tracked the ROI of those initiatives.
Siloed: Just half of companies take an enterprise-wide approach to strategic workforce planning.
While 85% of companies reported increased investment in SWP, only 52% are creating a consistent, company-wide approach, and only 14% of companies take a strategic, long-term approach to their workforce planning initiatives. While these ad-hoc, as-needed processes address current headcount, they fail to help business leaders plan for the skills and core competencies needed in the future.
"It's critical for business leaders to understand the link between their workforce and the customer value they are trying to provide," said Chris Hare, CEO and Co-founder of eQ8. "When they don't have a clear view of the workforce they need, leaders make near-term, reactive decisions rather than having a long-term view of the business. Leaders must do better, and strategic workforce planning is the mechanism for them to avoid long-term revenue implications of short-term disruptions."
Related
Unlock the Power of Strategic Workforce Planning
Methodology
335 HR and Workforce Planning Executives at Director level and above at companies with greater than 250 employees (82% with 1k+ employees) were surveyed over the course of January and February 2023. In addition to the quantitative data compiled from this survey, additional qualitative interviews were conducted by Aptitude Research.
About eQ8
eQ8 is the only dedicated end-to-end SaaS solution offering scalability and sustainability for total Strategic Workforce Planning success. Led by joint CEOs Alicia Roach and Chris Hare, eQ8 helps customers to connect people to purpose for greater revenue realization. Our mission is to democratize Strategic Workforce Planning for the world's leading organizations.
About Aptitude Research
Aptitude Research is a leading human capital management (HCM) research and advisory firm based in Boston. Our in-depth research and vendor assessments help HR leaders develop a deep understanding of the HCM technology landscape, including talent acquisition and engagement, to ultimately make better purchase decisions.